Autumn Leaf Scenic Hiwassee River Train Excursion
Saturday, October 15th, 2022

Tickets for trips are NOT refundable and are NOT transferrable to other dates. THE TRIP IS NOW SOLD OUT BUT ANOTHER TRIP WILL BE ANNOUCED IN THE NEAR FUTURE.

IF YOU'RE NOT ON OUR E-MAIL LIST, PLEASE GO TO THE BOTTOM OF THE PAGE AND COMPLETE THE SIGN-UP FORM FOR NOTIFICATIONS REGARDING OUR NEXT TRIP.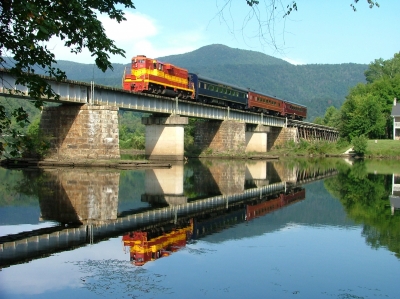 The Watauga Valley Railroad Historical Society & Museum is once again pleased to announce another Autumn Leaf Rail Excursion through the scenic Hiwassee River Gorge of East Tennessee. The excursion date is set for Saturday, October 15th, 2022 and will offer an opportunity to ride the rails through the one of the most beautiful river gorges in the United States as the railroad tracks travel along the Hiwassee River. An added feature is traversing the famous, spiral "Hiwassee Loop".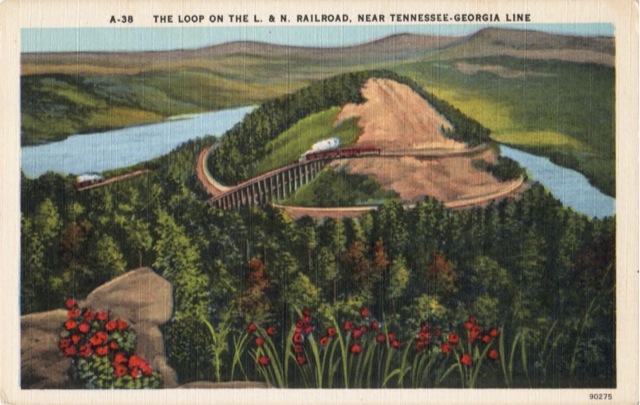 Hiwassee Loop
Your excursion train will travel through the Narrows, where the Hiwassee River flows through rock channels, and the Bald Mountain, or "Hiwassee Loop". The track actually passes over itself on a high trestle during a corkscrew climb up the mountain near Farner. Tracks along this route parallel the river for most of its length, providing views of the lower gorge. The trip is approximately 4.5 hours long.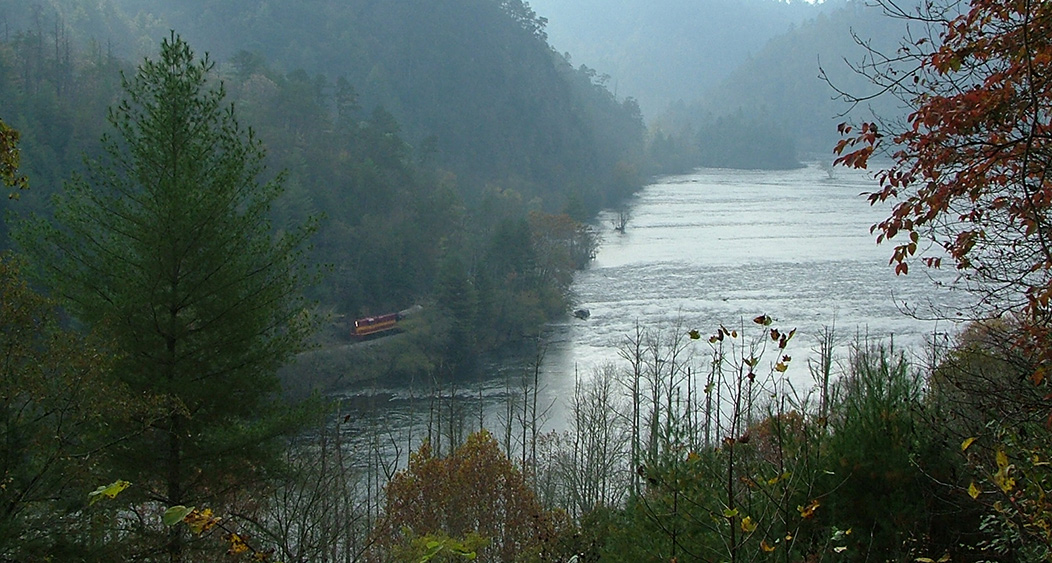 Hiwassee Gorge
General Deluxe Coach seating is offered on this excursion, providing passengers with comfortable cushioned seats with large windows. Historic 1950's-era diesel locomotives will pull the vintage enclosed climate-controlled coaches with rest rooms in each car. We are excited to offer seating aboard the luxury cars, which offers two seating options: high-level Dome and comfortable Observation Lounge seating. Dome seating allows passengers a panoramic view of the passing scenery from high above the car. Observation Lounge seating gives passengers a unique view of the railroad over which we pass from the end of the car. Both seating options in the "Algonquin Park" provide passengers with the opportunity to experience the "glory days" of rail travel in the United States. Each option includes complimentary snack service.
\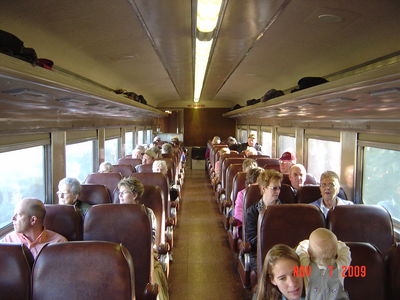 Deluxe Coach Seating
(150 seats available)
The boarding location is at 9406 US Highway 411 Delano, TN (5.2 miles south of Etowah, TN). Free parking is available at the train loading site. A map will be provided to the boarding location in Delano. TN.
NOTE: After passengers order tickets online, they will receive a confirmation of their purchase. A map will be e-mailed to you with your confirmation form. Another confirmation will be emailed approximately two weeks after the ticket purchase and will include more information and a map to the boarding location selected.
Snack items are available for sale on the train including: soft drinks, coffee, water, chips, crackers, and candy bars. Souvenirs are also sold onboard including: t-shirts, caps, and books.
Passengers will start boarding the train in Delano, TN at 11:30 a.m. for a 12:01 p.m. departure. Please arrive the boarding site parking lot no later than 11:30 a.m. The train will arrive in Farner, TN at 2:30 p.m. for a short layover, leaving Farner at 2:45 p.m. Upon arrival back at Delano, TN at 4:45 p.m. A loading ramp is available at train boarding location. A loading ramp is available at train boarding location.
TICKETS
[IMPORTANT NOTE: Those ordering tickets separately, but who wish to be seated together, should specify this on the order form]
DELUXE COACH CLASS

ticket price is $92/adult and $82/child [age 2-12]
PLEASE NOTE: NO REFUNDS OR VOUCHERS ISSUED FOR THIS TRIP
Tickets may be ordered online only!
HISTORY
The railroad line was originally built to haul ore from the copper basin in Copperhill, TN. Regularly scheduled passenger trains operated over this line until 1968; the last freight train traveled the "Old Line" in 2001. The Tennessee Overhill Association took over ownership of the rail line in 2004. This will be a unique opportunity to ride on this historic railroad line.
Please email wataugavalley@gmail.com for quicker answers if you have questions concerning this trip.