Moultrie Lightweight Dining Car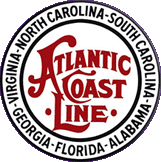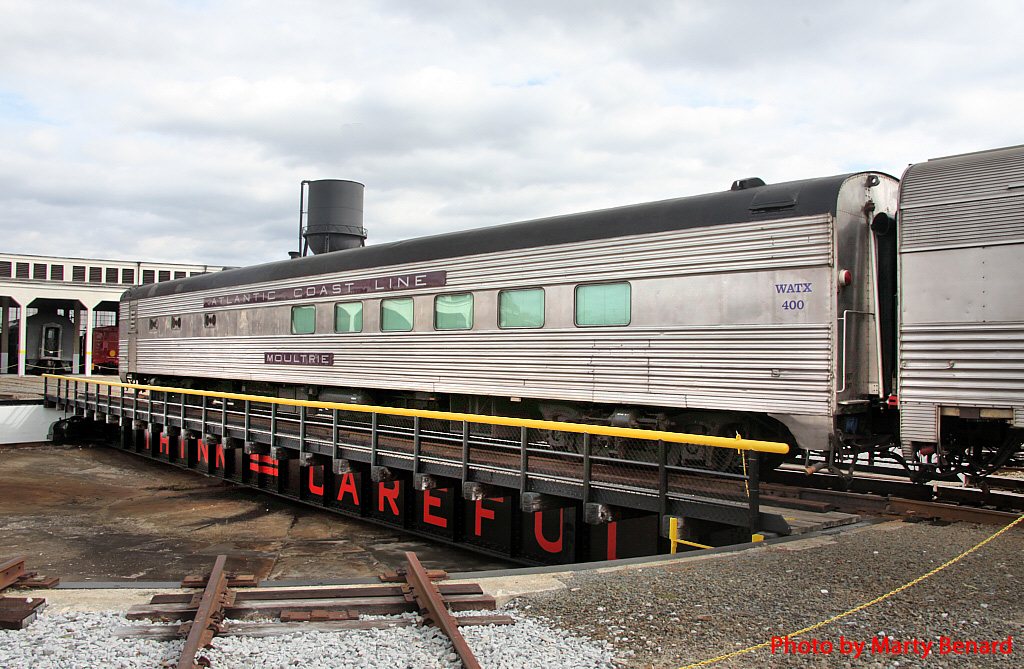 The Moultrie, WATX 400, is your elegant restaurant on wheels, adding the final touch when entertaining for business or pleasure. Restored to its original 36-seat dining car configuration, the Moultrie reflects the golden years of passenger train travel. The dining area has been refurbished in an elegant manner while keeping dependability, quality, and comfort as key objectives. Convenience of modern day food preparation and service was also kept in mind during the restoration project. The climate control heating and air conditioning system maintains a comfortable environment inside the car.
Dining in the Moultrie is a unique experience enhanced by the matched china, crystal, silverware, and table linen supplied with the diner. The kitchen is fully equipped with all the necessary cooking utensils, pots, and pans for complete dinner preparation for groups several times larger than the seating capacity of the diner.
The full-size kitchen features an all-electric 10-burner (Vulcan) range with 2 large ovens along with a griddle, a 60-inch steam table, 7 refrigeration units and three freezers, 3 large sinks, and a Hobart dishwasher. The built-in cabinets and counters in the kitchen are long and wide for the convenience of food preparation.

The Moultrie is AMTRAK approved with head-end power, 27-point connection, main reservoir airline, MU (Push/Pull) connectors, and superliner compatibility. The car is fully self-contained with a generator, as well as, station standby and pressurized water system.
HISTORY: In March and April of 1950, Pullman-Standard produced ten 36-seat dining cars with the following names: Atlanta, Birmingham, Cordele, Fitzgerald, Greenville, La Grange, Moultrie, Plant City, Talladega, and Tarboro. In May of that year, the RF&P received the 36-seat diner Henrico completed by the same car builder. Also in 1950, the Florida East Coast Railroad took delivery of two P-S built diners of the same series, the Fort Ribault and the Fort Drum. The body shell for one additional car of this type was built by Pullman-Standard in 1957. This work was completed at Atlantic Coast Line shops in December 1959 and the car was named Naples.
The Moultrie, originally owned by the ACL, operated on New York to Miami trains until 1971. With the formation of AMTRAK, the diner continued Florida service until 1981 when AMTRAK sold the car to a short-line dinner train operation in Virginia. The Watauga Valley Chapter NRHS purchased the car in 1989, completely upgrading the mechanical systems to AMTRAK standards and fully renovating the interior. It was assigned AAR reporting mark WATX 400.
The builder's photo of the Moultrie may be seen in the Official Pullman-Standard Library, volume 7, Southeast Railroads. The Moultrie was selected out of the ten diners noted above to carry the builder's photo for Pullman-Standard.
Floor Plan
DINING AREA
Seating for 36
Tables (12)
Six 4 places
Six 2 places
Linen settings for 72
China settings for 72
Glassware settings 72
Flatware settings for 72
AIR CONDITIONING
One Unit:10 tons:407C, 240v
HEAT
Electric Overhead and Baseboard
LIGHTING
Fluorescent
12v Emergency
KITCHEN EQUIPMENT
Electric Range (VULCAN)

Two Ovens
Ten 2kw Surface Units

Electric Griddle (Vulcan)
Dishwasher (Holbart – model 30)
Steam Table
Five Pots & Large Tray
Refrigeration Units (7 total)

Five in Kitchen & Pantry Area (one is used to cool the freezer)

3 Freezers
FOOD PREPARATION
Built-in cabinets
Counter tops are long and wide
Wells

One just outside Pantry that may be used for ice storage
One double cabinet refrigerator in Stewards Area

Microwave Oven
Water

Pressurized water system
Two 250 Gallon Tanks
One 50 Gallon Electric Water Heater
Onboard Water Raising Air Compressor

Sinks

Three large in Kitchen
Four Small in Pantry

Coffee Maker (BUNN)
POWER OPTIONS
480 Volt AMTRAK HEP
240 Volt Station Standby
Onboard Generator

240 Volt, 60kw
Water-cooled Perkins Diesel Engine
Fuel Capacity: 300 Gallons
OTHER INFORMATION
Diaphragms

Tube type - Superliner Compatible

Buffers
Brakes
Bearings: NFL
Push/Pull Connectors
27-point Communication
Main Reservoir